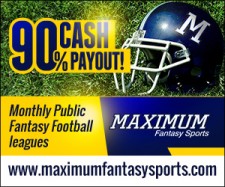 Maximum Fantasy Sports offers Monthly Fantasy Football leagues as a middle ground between Daily Fantasy Football leagues and season-long fan
Chicago, IL, September 26, 2016 (Newswire.com) - Maximum Fantasy Sports (www.maximumfantasysports.com) is offering Monthly Fantasy Football Leagues alongside their Daily and Weekly Fantasy Football Leagues with cash payouts. Though there is an obvious connection between "MFS" and the company name abbreviation, the company prefers to label these leagues as "4-Week Frenzy" leagues. Full descriptions of these leagues can be found on their website's Public League ruleset.
Monthly leagues operating within the NFL's Bye Week season would definitely provide an additional challenge when drafting a team. It appears that Maximum Fantasy Sports handles this by keeping the number of teams per league lower than a full-season league to have a better populated Waiver Wire. Additionally, they offer their 4-Week Frenzy leagues with a Bye Week Rollover option. That option allows a team to choose to use a player's performance the week before their Bye Week and get credit for their score for that week and the Bye Week.
"While Daily and Weekly fantasy football seasons get the most press coverage, many fantasy sports participants are not interested in this singular event. Providing a monthly league option gives a short-term alternative to those who prefer season-long leagues but aren't happy with the success of those teams. It is more appealing for those not interested in DFS leagues to join a 4-Week Frenzy league when their season-long team(s) takes a nosedive," said Bill Parsons, President of Maximum Fantasy Sports.
Being a short-term league, the total points accumulated by the starting lineups form the basis for the standings versus won/loss records commonly found in head-to-head leagues. These leagues are built using a Live Online Draft and not a salary cap. Using a draft and running for multiple weeks helps take out the risk often found in Daily Fantasy Sports leagues where the majority of the cash contests are won by a minority of the players who regularly play, often referred to as "Sharks". These leagues are found on the company's Open Leagues page.
Press Contact
Bill Parsons
Source: Maximum Fantasy Sports
Share: